Top16 Business Ideas for women with Low Investment
16 Business Ideas with Low Investment:
In this article let's learn about 16 business ideas that women can do at home with little or no investment!
Going into the topic, you just need to have a lot of contacts and desire to succeed, no huge investment is required. Many businesses can be started with little investment. Some Rs. While up to 1 lakh is ineffective, others do not require investment at all. All that is required is an idea, its implementation and a well-planned drive. Now let's have a look at 16 such ideas.
1. Babysitting Center :
Parents don't have time to take care of children due to heavy traffic. This has increased the demand for babysitting business. If you can manage effectively there is a chance to earn good money. It may require almost no investment. Because most people take care of their children by themselves. If there are those who can spend time near home, they can start a business by asking parents who leave their children babysitting in the same area.
2. Beautician Training Center :
These days the number of beauticians offering beauty related services in India is increasing. So it is a good idea for those who are well established as beauticians to have a company that manufactures beauticians. The better the reputation and the more contacts you have, the more popular you will get.
3. Pet Care centre:
If you love pets, you can start a pet care business. It can be started with zero investment if you have your own land.
4. Tuition Center:
This is a good idea if you have a knack for teaching kids and have the skills to handle them. But it is better to take the advice of those who are in the field about its pitfalls.
5. Cooking Lessons:
Those who are good at cooking and can explain it well to others can also earn money by giving cooking lessons. It does not require huge investment. Homemakers are interested in learning from you.
6. Dance, Aerobic, Yoga Lessons:
If you are skilled in any art you can do this too. Teaching dance lessons is a field that is in good demand. Also, many people look forward to learning things like aerobics and yoga.
7. Courier Company:
Many courier companies need new people to run their business as franchises in small areas. At present we see that DTDC (Door to Door Courier) company has many franchises. This business is ideal for those who can rent out any small space and manage people.
8. Tiffin Corner:
If you feel you have cooking skills then you can start a modern tiffin corner. More and more people are eating home-cooked meals. But this business needs some investment. It can be run from home.
9. Freelancers:
One can also try for opportunities like freelance writing, web designing, web development. There are great new opportunities in these fields for professionals of all fields.
10. Financial or Portfolio Consultant:
If you have expertise in financial affairs then you can try as a portfolio consultant. It can be started with very little investment.
11. Opening a Home Textile Shop :
If you have a lot of contacts at home and have a good fashion sense, you can open a home textile shop or boutique shop and earn good profits. All you need to do is to buy clothes wholesale at low cost and retail at good prices.
12. Craft Making:
If you have skill in craft making, make various toys and items and sell them through ecommerce sites like amazon, flipkart, gift corners, social media and own website or set up your own shop. , sell , you can profit.
13. Fitness center:
If you have awareness, interest and proper knowledge about fitness and health, you can start a fitness center and make good profit.
14. wedding planner :
This business can be started by anyone who has proper knowledge about wedding traditions, expenses and everything related to it. Women are excelling in this field.
15. Interior Decoration:
Commonly women decorate the house very beautifully. So if you also have good skills in decoration you can start an interior decoration business and become self employed. If you can choose the right things, decorate and bring beauty to new houses and shops, then you are successful in this business.
16. Catering Business :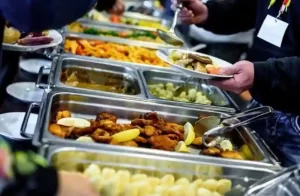 If you are good at making different types of items in cooking, you can start this catering business at home and make good profit. You can profit by supplying tiffins and meals for small functions in the surrounding area around your house.