Success story about women entrepreneur Mrs.jayamma
A 60-year-old woman from a rural, uneducated age has proven that self-employment can be achieved if perseverance is enough. In this article we will learn about the women entrepreneur who is now the inspiration for today's innovation.
Going into more detail, "We'll be in one place. We are doing what we have done. There is a dissatisfaction among many people that we are living like a bull without any worries. Jayamma Gary's life past the age of sixty was similar in the past. But at the age of sixty, Jayamma is holding the wheel and is moving towards success.
Kotla Jayamma's hometown is Mahabubnagar district, Gandhidham zone, Jaklapalli village in the state of Telangana. The winner is a farming family. The husband worked on the farm with the children and continued to produce milk. Jayammagar was diagnosed with breast cancer four years ago. Let us now find out what Jayamma said in an interview about how she put into practice the idea she had in order to recover from the illness.
She was treated for cancer in a nearby town. Doctors want to do chemotherapy ten times. At this point, a doctor told her to use ganuga oil and make changes in her diet. With this, she used to bring cooking oils from the current ganuga in Mahabubnagar. That's when the thought came to her, "Can we set up the bar ourselves?" Instead of running with the current, she searched for a bullock cart. Knowing that it was in Mysore, we went there and looked. So three years ago we set up a bullock cart and started extracting oil. Jayamma started extracting oil with palli, coconut, avise, kusuma and sesame.
After the establishment of Ganuga, the government set up a program for women in thrift societies. In it, she explained to the rest of the members what she was doing. He said that good oil should be provided to everyone anyway. He also trained on marketing a few days a month for a year. Until then, she's been selling essential oils to those around her. After training we set up another five ganugas. Jayammagaru built a shed with an investment of Rs.15,00,000 / -, set up a shed and increased oil production.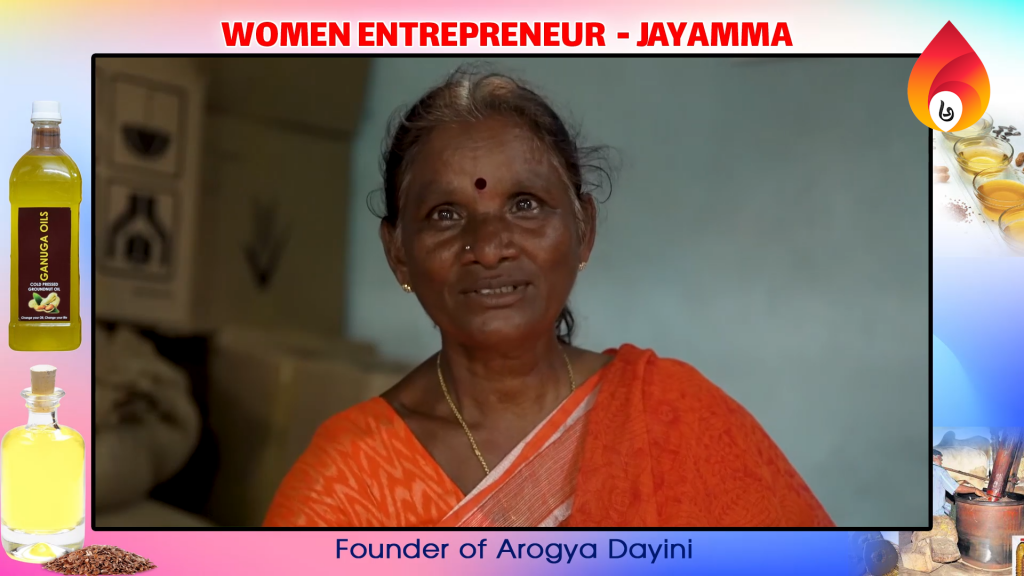 From other states … Various types of oils are also being imported from Orissa and Karnataka for the raw materials required for extraction. Every month six tonnes of pallis, two tonnes of coconut, three tonnes of saffron and two tonnes of sesame are taken. Of these, grass sesame seeds are imported from Orissa, safflower and coconut from Karnataka, and pallis and sesame seeds from Mahabubnagar.
She is gradually growing her oil business and employing herself and others. As well as the popularity of the ancient ganuga oil under the name of "healthy" is crossing borders.
We have set up training programs on ganuga oil making for 170 people 4 times after setting up ganugas. Accommodation and dining facilities were provided for all of them. Assisted in setting up of eight new canals in different districts under the name of Arogyadaini. In addition, many service programs are also carried out in the name of health. Jayamma is also ideal for providing water‌ filter, books and electricity to the school. 'It will set up four more mines and export oil to the United States as well. The aim is to curb adulterated oils and provide pure oil, "said Jayamma.
'Now the oil extracted from our hometown Jaklapally by Katte Ganuga is also exported abroad. We are sending to Dubai, Singapore, and Malaysia with the help of a company based in Hyderabad. We export about 4,000 liters of oil every three months. We use ganuga pippin as fodder for cattle. There is a good demand for livestock feed here. We are sending pure unadulterated oil by courier to the states of Karnataka, Andhra Pradesh and Punjab. Along with our family members, 15 others are employed in this oil business, "explained Jayamma.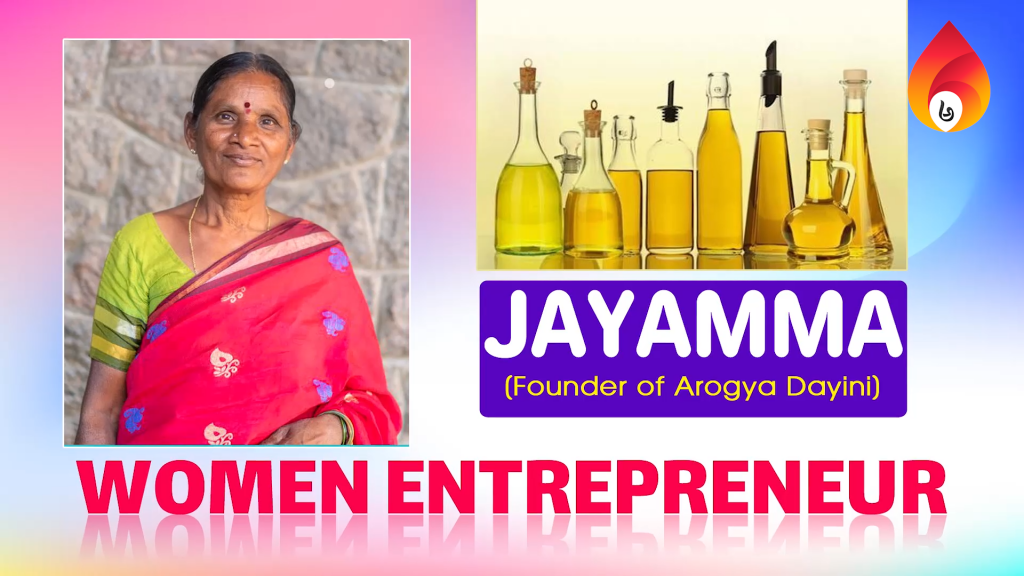 "I have been working here since I was born. Before that it was going to farm work. Had to work for years. The ones that were empty for years. When these songs arrive, there is plenty of work to be done. Gone is the need to look for work, "said a woman who works at Jayamma.