Start today Tea house franchise business and earn high income
In this article we have brought you another brand new franchise business opportunity. Coming to the company that is going to be mentioned now, it is a famous company that has established more than 100 outlets in our country so far without any offline or online advertisements and has become popular only through the word of mouth of customers.
Going into details! Currently there are many companies in the tea business category in the market. Also, no matter how many there are, each tea company.. is achieving success in the market with each specialty and expanding all over the country. In that category, it has been popular with customers for the past 10 years, without any advertising, just by word of mouth, and has established more than 100 outlets in our country so far.. TEA HOUSE.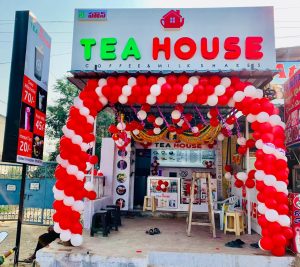 This Tea House, a tea outlets chain company, has its own tea flavor taste and has a specialty like quality and best taste in menu items. It also ensures that the customers who come to their Tea House outlets have the best ambience and hygiene. It also arranges each outlet to have a grand outlook. Not only tea for customers who come for refreshment, this TEA HOUSE outlet has menu recipes like 6 types of coffees, 9 types of teas, 6 types of lassi, 13 types of milk shakes, 6 types of coolers. All these items provide customers with great taste at low prices.
So, TEA HOUSE COMPANY provides franchise opportunity to unemployed and enterprising entrepreneurs who want to set up a tea business with low investment and have their own business and get good income. For setting up this TEA HOUSE franchise in all states, all district centers, towns, rural areas and all other areas in India, you can contact the company. This tea out business, today has become a business with opportunities to earn more income with less investment in less time. This TEA HOUSE outlet is the best business option that can run for 365 days, many hours a day, regardless of the season.
For this TEA HOUSE franchise Rs. 3,25,000/- (including GST) has to be paid to the company as franchise fee, branding fee, franchise setup. This Rs. 3,25,000/- will provide branding, kitchen items and equipment to the tea outlet.
If you look at the items provided by the company (teahouse) for the franchise fee you have paid,
1) Shop Main Sign boards, Chocolate board, Designing boards, Menu board, Photo frames, Piller and walls vinyl Stickering are provided.
2) 1 lack turn over raw material i.e. Tea powder, Badam powder, Dry fruit powders, Milkshake materials, Syrups etc. items are given.
3) Deep-freezer, Normal refrigerator, Hot case samosa box, Induction stove and high-pressure ss stove, Flasks, Mixer for milkshakes, Dust bins and PVC containers, Stainless steel materials, Around 80-90 items are also provided as part of kitchen equipment. .
4) 3-4 days training for making menu recipes will be provided to you or your chef
5) Transportation logistics service is provided for Raw Materials.
The TEA HOUSE franchisee agreement period is for 5 years. After that it should be renewed.
When it comes to the profit margin, depending on the menu items in the outlet, the company says that the profit margin is 40% to 80% on their sales.
The company always gives all kinds of advice and suggestions that you need to do business.
So, if you need any more details about this TEA HOUSE franchise contact the company. Discuss everything with the company, consider everything and take a decision.

M/s TEA HOUSE,
Phone numbers: 9701007333, 8988993399.
Let us know your opinion on this article in the comments.