Latest Distributorship, Dealership business opportunities from Refresh globel
Latest Distributorship, Dealership business opportunities
In this article, we have brought you a new business opportunity that can be done with an investment of just 50 thousand.
A leading company.. offers its products which are in high demand and fast moving in the market, distributorship and Dealership in all districts, all mandals in the two Telugu states of Andhra Pradesh and Telangana.
If we go into details, if our vehicle gets a tire puncture while we are traveling, the trouble is not so much. Whether we are on a bike, or in a car, if we are going for work, business or any other important work, if the tire is punctured, we will face many problems. If there is no puncture shop nearby to repair the tire puncture, we have to bring our bike to that shop. If the same car does not have Stepney tyre, for the tire puncture repair person, he has to go in another vehicle and bring him and get him repaired. Meanwhile, the time to go to our office or business passes. If the tire is punctured at night, when it is raining or in deserted places, our situation is even worse. If this happens when the same women are driving the vehicle, the situation is still unimaginable.
So as a proper solution to this, to prevent such problems, a company called Refresh Global has brought a product called tire sealant gel into the market. If this tire sealant gel is pre-filled in your tires, your tire life will not be punctured and tire overheat will increase the tire life. The price of this gel is also affordable. It is enough to fill the gel quantity according to your tire size. There is a huge demand for this tire sealant gel in the market.
So for this interesting product, this company is looking for distributors, dealers in all districts and mandals of both Telugu states of Andhra Pradesh and Telangana. So those who are interested in this business opportunity, aspiring entrepreneurs, unemployed people, contact the company.
And when it comes to Distributorship, Dealership business opportunities,
For this tire sealant gel distributorship, a minimum investment of 2 lakh rupees is required.
Also for dealership, minimum investment of 50,000/- rupees is required.
When it comes to income, the company says that there will be a profit margin of up to 60% on monthly sales in this business.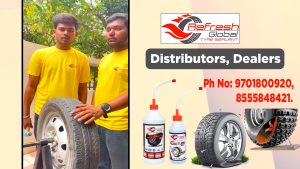 And when it comes to the support provided by the company,
The company will give you digital marketing support. A skill person will be given full training on your behalf to fill this tire sealant gel in the tires. Also provides all required technical & marketing support. The company always gives all kinds of advice and suggestions that you need to do business.
To get this tire sealant gel distributorship, Dealership or if you need any details on this business opportunity contact the company. Contact the company through their address and phone numbers shown below. Contact via whatsapp if the phone number is call waiting or busy.
M/S Nandu Enterprises
Flat No 402, 4th Floor, Gitanjali Amity Park,
H No. 16-11-405/ 5&6,
S.B.I. Colony, Moosarambagh, Hyderabad 500036.
Phone Nos: 97018 00920, 8555 8484 21 (Call Timings: 10:00am to 7:00pm)
That's it readers!! Details about Tire Sealant gel distributorship and dealership business opportunities. Let us know your opinion on this article in the comments.