Kethi Goat franchise business in Hyderabad
In this article, let's learn about the famous company that has brought the outlet business to the market with a creative concept, and the details of the franchise opportunity offered by that company.
Going into details, there are very few people who don't like and don't eat mutton in our Telugu states. Doctors are also suggesting those who are weak to eat mutton. So the demand for mutton in the market is increasing day by day. But these days it becomes very difficult for customers to find quality mutton in a metropolis like Hyderabad. Keeping these things in mind, a company called "Kethi Goats pvt ltd" is setting up outlets with a new creative concept.
First of all when it comes to Kethi Goats pvt ltd company, this company started from Hyderabad center. Runs own goat farms. Goat farms are being managed in special methods and taking special care. Also, quality mutton is being supplied to Hyderabad and surrounding areas in bulk orders.
So now this Kethi Goats pvt ltd company, under the name "Kethi Goat", sets up outlets and sells best quality mutton in hygienic environment. Now this Kethi Goats company offers Kethi Goat franchises in all areas only in Hyderabad city. Interested aspiring entrepreneurs can use this franchise opportunity to start with minimum investment and become self-employed and earn good income.
To setup this Kethi Goat franchise, you need a minimum 300 sq.fts shop in semi residential or commercial area. Only one franchise is given per area in Hyderabad city. Also, another franchisee will not be assigned to someone else within a radius of 5 km from the place where the franchisee is allotted to you.
This Kethi Goat franchise needs three man power. One (butcher) is required to cut the mutton and the other is required to be at the cash counter. A bike and a delivery executive are also required for home delivery.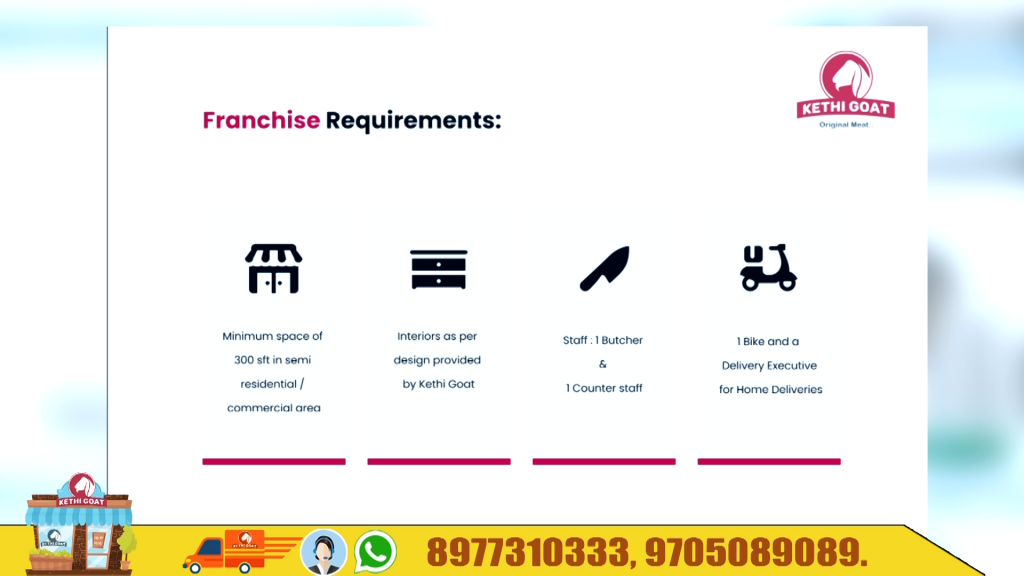 The company supplies fresh mutton to the franchisee from time to time. There is no further process. Your task is to check the weight of the mutton sent by the company on the weighing scale and cut it into small pieces in the quantity required by the customers. The price of mutton in Kethi Goat franchise is about 100/- less than the market price. So customers must have the best quality mutton in a hygienic environment at a lower price than the market, there are plenty of opportunities to patronize this business.
Apart from its own goat farms, this company has tie-up with many farmers and also collects goats from them, processes them, and sends the mutton to the outlets.
The company also has its own mobile app. The leads coming in that app promotion will also be forwarded to you. That means if any customer orders mutton in your area, the details will be sent to you. You will have to do home delivery of mutton through your delivery executive. Also the direct calls to your store should also have mutton home delivery.
When it comes to the investment for the Kethi Goat franchise, Rs. 2,00,000/- is required as an investment. In this amount the company will set up Kethi Goat outlet. No more royalty fees and other fees need to be paid to the company. The Kethi Goat franchise agreement period with the company is 1 year.
You pay Rs. 2,00,000/- for the amount, the company will provide store branding, dealer signage & interior panels, store setup, display counter (chillier), freezer, reception table, chopping boards & knives.
When it comes to income, there is a profit margin of about 100/- on the customer price of one kg of mutton. For example, if you sell 30 kg of mutton per day, the amount will be 3000/- per day and 90,000/- per month. After deducting shop rent, electricity bill and staff salaries from this, you will get 40,000 to 50,000/- as income per month. If you can do things like cutting mutton, being at the cash counter or doing home delivery by yourself, the salary you give to outside people will be left over.
Also Kethi Goat will give full training to you and your staff on outlet operations. The company supplies the required stock to your outlet every day.. They also provide field promotions and publicity materials for the promotion of your store. It also provides all kinds of support to your franchisee. The company always gives all kinds of advice and suggestions that you need to do business.
If you have any queries on these Kethi Goat franchise details, contact the company. Those who are interested in this business, discuss everything with the company, examine everything and take a decision.