Tea powder business opportunity by jb's company
In this article we will learn about a business opportunity with good profits that can be started with an investment of Rs. 5000 / – to Rs. 10000 / – offered by a leading company called JBS.
Let's go into more details! Drinking tea is part of the daily routine for most people. More than 90% of the people in our country, to relax from their physical and mental stress at home, in the office, at the workshop .. Be sure to take tea anywhere. That is why our country's tea related businesses are running successfully. In addition, tea points are formed in a variety of new ways.
How much demand is there for tea .. There is also a demand for tea powder. Tea powder is popular in our country as Assam tea powder. This tea powder is mostly used in our country from small tea stalls to big big star hotels. JBS Tea works, a direct dealer of this Assam tea powder, offers a business opportunity to those who want to start any business with low investment. You can start this tea powder business in your area with an investment of just 5000 / – to 10000 / -.
Jbs Company has three types of tea powders namely Dust, BP and BOP. They also offer high premium tea powder for start hotels. Perfectly blended, good color and good taste are the specialty of their tea powders. In a word, they have the perfect color tea powder available at low prices for local tea shops.
The company supplies retail stores under the brand name "Dhanalaxmi" and wholesalers under the brand name "Leaf". They have a price of Rs 190 / – to Rs 320 / – per kg of tea powder.
This company will supply you a variety of Assam tea powders at your location at best prices. You can sell them locally in your area and earn a good income. You will have a profit margin of 25 to 50% on sales of these tea powders.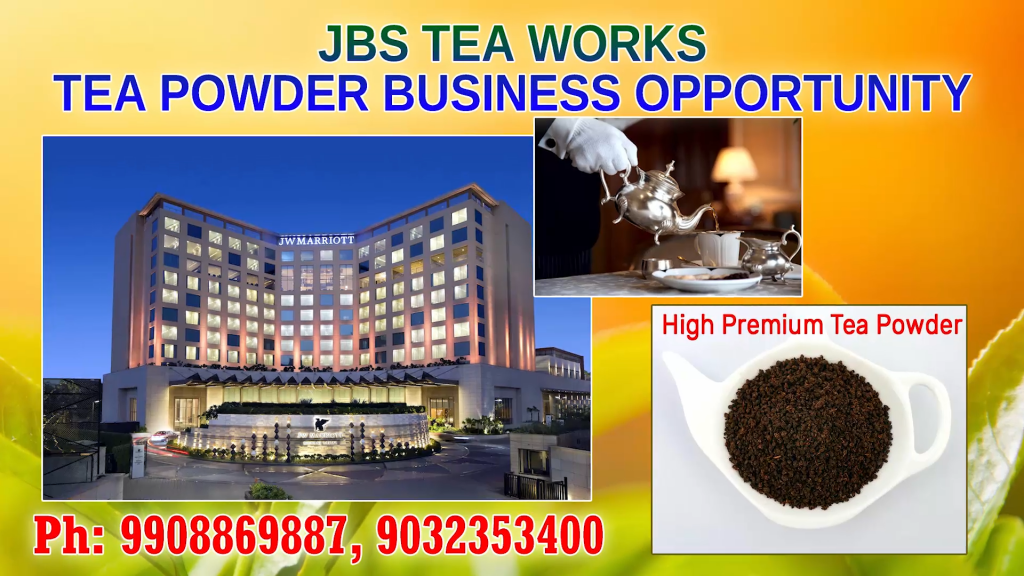 You will need to consult with local tea stalls, cafés, hotels, caterers for sales of this tea powder. The important thing you may not know is that we only buy popular brand tea packets in our homes. But outside the tea business, they buy tea powders from new companies. Good taste, quality, low price .. these are what they want. So if you inform the hotels about the tea products of this company, sales will be generated automatically.
This company called JBS tea works has an office and godown in Tirupati. If you order tea powder from them, they will parcel the stock to your area via transport such as VRL, APSRTC.
If you have any doubts about this wholesale tea powder business, contact JBStea works Company. Those who are interested in this business, the company should discuss all the issues with them, take a look at everything and make a decision.