New dealership business opportunity by Daddysroad
In this article, a leading company offers a business opportunity to earn up to Rs 1 crore per annum at low investment, without taking any security deposits. This business requires no shop and can be started from home. So let us now know in detail what that business opportunity is.
Going into further details, it is clear that road accidents have been on the rise in recent times. Although the police and governments are implementing and implementing a variety of security measures to prevent accidents .. the benefit does not appear. In our country, a report reveals that about 1.2 million people die in road accidents every year. Also .. another 50 million people are injured and becoming permanently disabled. About 325 lives are lost every day. Most of them are under 24 years old. However, the number of people dying in road accidents in our country is increasing.
So taking this issue as the main point, a leading company called Daddy's Road was started in our country. The company's main goal is to reduce the number of people who die in road accidents and the rate of permanent disability. This startup has been recognized by the Indian government. Serves in 23 states in our country. This Daddy's Road is well known in the states of Tamil Nadu, Kerala and Karnataka for the services provided by their company.
We see many road accidents as we travel on the road. But when an accident victim does not have any serious injuries, the shorter the hospitalization, the greater the chances of saving lives or limbs. These are called the golden hours.
Common In the event of an accident anywhere, we call 108 vehicles, wait or take them to the hospital in any vehicle. But the family members of the person involved in the accident will not have the opportunity to comment on the matter at that time. Due to the unavailability of family members at that time there is also a possibility of delay in healing the person.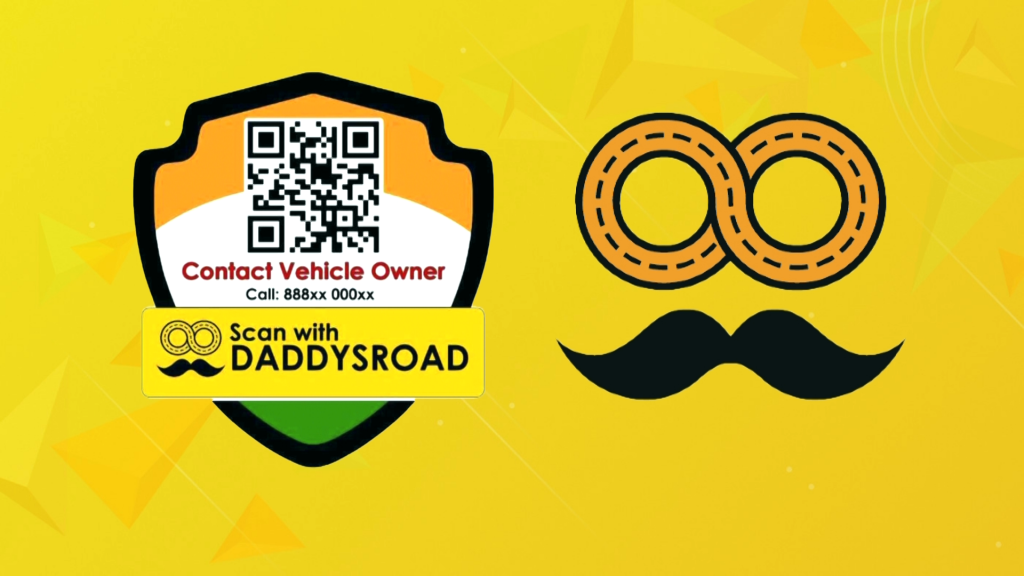 As a solution, Daddy's Road Company has launched QR codes, as well as Daddy's Road mobile app. This QR code must be affixed to any vehicle such as two wheeler, three wheeler, four wheeler and heavy vehicles. Attach that QR code to Daddy's Road mobile app and add all personal details. If there is any road accident to the vehicle with that QR code, the QR code for that vehicle can be scanned by those on the spot, those who have Daddy's Road mobile app installed, and the message immediately goes to the family members of the person involved in the accident, all three. Or if those at the accident spot do not have a Daddy's Road mobile app, just call the toll free number above the QR code and say the vehicle number, and a message will be sent to their family members, all three of them.
This QR code sticker is very useful for those who are at risk in this way. There are many more services in this QR code. This app has major features like Accidental Alert, Blood Bank, Parking Issue, Insurance.
In case of Accidental Alert & Parking such as parking wrong, blocking the road, lost are abandoned, hit and run, Not locked, tow alert, Fire and other threats, accident alert (informs victims family), you will get notifications & messages of the numbers you have added. If the person in danger needs blood, the hospital will inform the donor from users within a radius of 10km. Also provides accidental insurance of Rs 1 lakh to the vehicle owner.
Also digital copies of RC, driving license, pollution, insurance documents related to the vehicle can be stored in this app. Police inspections will be able to show these. The company is licensed by all branches of the Central Government.
Because it is a public safety product, Daddy's Road Company receives praise from various government departments across India, including police & transport executives and politicians. Also many movie celebrities are promoting this Daddy's Road QR code.
So currently, Daddy's Road Company offers delaerships in all areas of both Andhra Pradesh and Telangana, without any security deposit. There is no need to shop for this dealership, you can also start from home. Those who are interested in this Daddy's Road QR code sticker business can get dealership from this company and stay in your area and earn revenue.
The minimum investment to get this dealership is Rs. 25,000 / – to Rs. 2,50,000 / -. The company will give you Daddy's Road QR code stickers for that amount. Revenue is generated by selling them to all types of vehicle owners. Customer price of a QR code sticker, MRP 599 / -. Currently offering price is 499 / -.
It is with life time Validity. This 499 / – amount is being charged for Maintenance, Manufacturing and Spreading. You will have some profit margin on this amount. These QR code stickers can also be sold by sellers of vehicles, such as RTA agents, tire shops, spares shops, vehicle repair workshops. The company says it has the potential to earn up to Rs one crore a year.
The company will give you complete knowledge on these Daddy's Road QR code stickers. 24/7 technical team availability and providing 24/7 customer care service. Also for dealership holders, the company will always give you all the advice and guidance you need to do business.

If you have any doubts about the details of these Daddy's Road QR code stickers, please contact the company. Those who are interested in this business, the company should discuss all the issues with them, take a look at everything and make a decision.
That's it readers! Details about Daddy's Road Company business opportunity. Let us know your thoughts on this article in the comments. Thankyou.