How to start tomato powder making business at home with small investment
Tomato powder making business: In this article, let's learn about the manufacturing of a good product that is in demand in the products that we use regularly, and about the home based business plan that can be started at our home with small investment.
Going into details, tomato is the most important vegetable that we use regularly. The tomato price in the market varies from season to season, and the prices skyrocket every time. But we need this tomato for gravy every day. As an alternative to this, instant useful tomato powders are coming in the market. Those who cannot withstand market fluctuations in tomato prices are turning to tomato powder. This powder is especially used for daily cooking at home, by chat makers, fast food center people, catering service people, hotel people, and also by people who make beauty products. Tomato powder is also used in many cosmetic products. This product has good demand in foreign countries.
So there are plenty of opportunities for you to take up this tomato powder manufacturing and earn good income. You can start this business from home with very little investment. It can be a good self employment opportunity for you.
To start the production of this tomato powder, raw material tomatoes should be bought cheaply, converted into powder and sold throughout the year.
Good quality tomatoes can be bought from farmers, in bulk from Rythu Bazar, or online through websites like Indiamart.com. Also, it is enough to take commercial mixer for grinding dried tomatoes. Also, silver covers or small plastic boxes which are attractive should be taken for packing. Sealing machine is also required if buying silver covers. 20,000/- rupees is enough to buy all these.
Otherwise, you can start this tomato powder business in your home alone and after the demand and sales increase, you can set it up as a small unit. Doing this will give you experience in this business. Also your investment will not be wasted.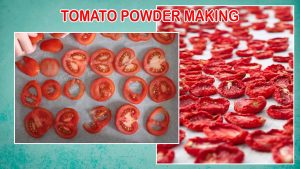 When it comes to making tomato powder, making this powder is very easy. After getting the tomatoes from the market, wash the tomato thoroughly, wipe it and cut it into thin pieces. Then put a thin cloth on it and dry it in the sun. It dries in 2 to 4 days depending on the intensity of the sun. Let them dry completely. Then put the dried tomato pieces in a commercial mixer and make a powder. Next, sprinkle tomato powder and pack in boxes or covers printed with your brand name in quantities like 100 grams, 200 grams, ½ kg. To be sold in the wholesale market means that 5 kg and 10 kg should be packed and sold. If this tomato powder is packed in silver covers i.e. aluminum foil covers, it will remain intact for 6 months.
Now let's know about income and expenses in this business!
What you need to start this business is good quality tomatoes. Since the prices of vegetables vary in the market, let's take the price of tomatoes as 10 rupees per kg during the season. About ½ kg of powder is prepared for 1 kg of tomatoes. To make one kg of powder it costs us Rs 25 including packing and marketing expenses. Tomato powder is being sold at Rs 140 to Rs 160 in the present market. So you will have a profit of 100 rupees on one kg of tomato powder that you sell in wholesale. In starting, if you make and sell 20 kg of powder per day, you will have an income of 2000/- per day and 60,000/- per month.
Now let's talk about marketing.
Tomato powder has a good demand in the market, this powder should be marketed to grocery stores like grocery stores and supermarkets. Fast food center, catering, hotels, restaurants, canteens, mess, school, college, office canteens also purchase regularly. You can register your company on amazon and flipkart and sell there too. If you create your page on Instagram, Facebook, WhatsApp, orders will also come from there. If you list your company on Indiamart.com, exportersindia.com, tradeindia.com you will get orders from there too.
And when it comes to the government license that you need to take, FSSAI license must be taken for this business. To register your company in amazon and flipkart you need to take trade license. GST registration is required.
Before starting this tomato powder business, we request you to study more about the prices and other things in the market and move forward. The income, expenses, investment, prices mentioned in this video may change depending on the region and changing conditions.
That's it readers!! Details about Tomato powder business. Let us know in the comments how you feel about this business.