How to start homely food carriage service business from home with low investment
In this article, let's learn about the home business idea that brings more profits with minimum investment.
If we go into details, there is a never ending process in life that is cooking and serving food. So with this cooking and serving concept, we have brought food business to you in a different and effective business strategies. so let's get into it.
There is no such thing as a failed food business if you start it with a low budget and maintain the taste. Because food is very important for us. These days many families are nuclear families. Also both wife and husband are working. There is no one at home to help, so they are dependent on food from outside restaurants. Also, if they don't like the food there, there is no other way, they have to eat it and suffer from health disturbances. That's why everyone is searching for homely food. So as a solution to these problems, homely food carriage service providers in Mumbai, Pune, Chennai, Hyderabad and Vijayawada cities are earning good income. This business is called homely food carriage business. This business specialty comes with low investment and guaranteed profit. So, friends monthly services or whenever the customer informs in advance, you can supply sufficient carriage for all the days and see a good profit, there is no food wastage like a restaurant because there is an order first.
In this business you can provide monthly carrier service, customized, veg and non-veg, south Indian and north Indian, whatever, what kind of food you like most in your locality, first you have to make a menu card with such food and start the business.
Now let's see how to start a Homely food carriage business and what are the requirements!
food items, groceries list You should bring good quality goods depending on the food item you choose, vegetables or nonveg and all the other food items you should bring for your menu, you should arrange enough cooking utensils for the number of people you want to prepare the carriage for, and gas stove. Customized food so food service can be given according to customer order, first you need to prepare a standard menu. You can also supply according to that menu, and festive sweets and snacks should be included in the menu on Sunday's and festive seasons. Friends, as a homely food carriage service, the taste of homely food has to be maintained. Packing material should also be purchased for packaging. The raw material and packing material you need for this business are available at Indiamart.com.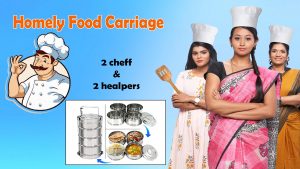 Now let's know the details of investment, income & expenses.
To do this business, you can start this business from your home with an investment of 1 lakh to 3 lakh rupees, start with 100 carriage's and increase the supply when the demand increases. You have to arrange two cooking masters and two helpers for packing for this business. You also need to appoint two delivery boys for this business. Friends, when it comes to profit, to make a carriage in this business, you will have about 25 to 30% profit margin including all the costs of making, delivery, packing. Profit depends on items quantities. Friends, I have told you about lunch and dinner carriage, you can also supply breakfast, snacks, weekend special items and get more profit. Even if you customize any veg and non-veg items, there will be good demand for your business. Homely and healthy varieties are more in demand in this business. will be Because daily carriage is brought on a monthly basis, so if you create your brand, more orders will come in terms of quality. Design the food items list according to your taste and customer taste.
Now let's talk about marketing.
Word of mouth publicity is very important for this business. It is due to quality and taste food supply. You should first explain your menu card and business to the secretaries in gated communities, apartments, group houses in your colony for advertising. Create a page on Whatsapp, Facebook. Distribute pamphlets with your business information, put up banners with your business name in your area, people in residential areas also mostly bring carriages, also share your business information with all the people who are having trouble not being able to go around to cook food like offices, schools near you. If you register your business in apps like Zomato, Swiggy, uber eats, you will get orders from there as well.