How to start areca leaf plates making business
In this article, let's learn about profitable business ideas that can be started with low investment.
If we go into details, now there is a huge demand for eco friendly products coming in the market as an alternative to these poly coated paper plates. So eco friendly products areca leaf plates are one of the popular products. Now there is a good demand for these in our country. Everyone is mostly using areca leaf plates in the market. So you can also make these areca leaf plates and earn good income at home. Now let's know the complete details about the preparation of these areca leaf plates.
Friends, areca leaf means betel nut leaf, plates made of this leaf are called areca leaf plates. Everyone is using these plates to avoid environmental pollution. Areca leaf plates are eco-friendly, bio-degradable, and compostable. There is no need to cut trees for making these plates. The leaves of fallen trees are collected and prepared. These come under the waste to wealth concept. These are very good for our health. Chemicals, bleaching, poly ethylene coating, wax coating are not used in their manufacturing process. Not only plates, but also items like spoons, forks, bowls, round plates, square plates, partition plates etc. can be made with this areca leaf.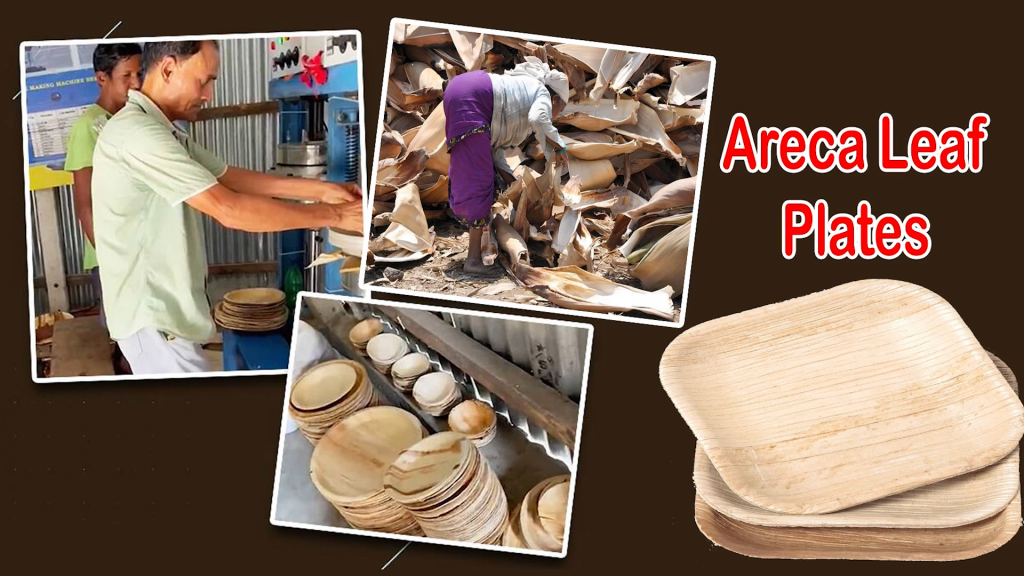 These products are microwave and refrigerator safe and are very light weight. Liquid items placed in it will not leak for up to 4 hours. Hot, cool, dry, and wet food items can be served in these plates.
Especially the raw material required for the business of manufacturing these areca leaf plates is areca leaf. We have to collect from vakka plantation farmers, these vakka leaf plantations are abundant in states of Tamil Nadu, Kerala and Karnataka along with Ananthapur sarihadhu places. From there to your place, you have to bring fallen leaves of vakka trees. You can also contact farmers through online.
In the process of making these areca leaf plates, first after collecting the leaves from the farmers or from the wholesale market, they should be cleaned with water and soaked in water for 20-25 minutes. Then the leaves should be dried in the shade for 3 to 4 hours.
After drying completely, turn on the automatic areca leaf making machine and press the dried leaves on top of the machine and the plates will be ready in the sizes we want. This machine is very easy to operate, even women can produce it very easily. The next task is to sell the ready plates. Generally, these plates are manufactured in 5 types of sizes depending on the market demand. There are different sizes of molds in the machine. We have to change the molds according to the item we want.
Now let's know the details of investment, income & expenses.
For areca leaf plate manufacturing unit you need to purchase automatic areca leaf making machine, the price of which is in the range of 85,000/- to 3 lakh rupees. This machine is Indiamart for you. com is available. Raw material you can purchase from farmers or Indiamart.com and there are dealers who sell wholesale areca leaf. You can also purchase from them. To start this business, raw material, shed rent, and machinery cost can be started with 3 lakh rupees. 3 rupees inclusive of all expenses to prepare a plate. We can sell it for 5 rupees in the wholesale market and 6 rupees in the retail market. This business can produce up to 2000 plates daily. The profit in this business is up to 50%. A minimum profit of Rs.60,000/- per month can be earned.
Now let's talk about marketing.
For the marketing of these areca leaf products, there are dealers who sell edible plates in the market. They can be contacted. Catering, Temples, hotels, restaurants, canteens, mess, school, college, office canteens who sell meals purchase regularly. You can register your company on amazon and flipkart and sell there too. If you create your page on Instagram, Facebook, WhatsApp, orders will also come from there.
If you list your company on Indiamart.com, exportersindia.com, tradeindia.com you will get orders from there too. Friends, 50, 100, plates can be packed in small packets and supplied to supermarkets, general stores, and all grocery related stores.
That's it readers!! Details about Areca leaf plates making business. Let us know in the comments how you feel about this business.