How to start a towncart supermarket franchise business?
Let's know about the famous company which is growing rapidly in the field of grocery stores and the franchise business opportunity offered by that company. You just need to invest, the company will take care of everything like business setup, business training, business promotion.
If we go into the details, the grocery business that sells essential items is the grocery business.. Evergreen business.. Even in the difficult times of Corona, the grocery stores business went on without any problems. That is why many people show interest in running grocery stores. But if you have the ability to invest a little more, it can be said that starting a supermarket is a better decision than grocery stores. Supermarket business is a business with wide popularity in the present generation. In this supermarket business there are chances of getting more profits. Customers' preference for supermarkets is increasing day by day. So it can be said that it is a good decision to start a supermarket business in a good area and get self-employment.
For those who want to start a supermarket business, "Towncart" company, which is very popular company in recent times in our Telugu states, offers a good business opportunity.
If you want to set up a supermarket in a low budget, Towncart is the best option for you. This company gives supermarket franchises..that's with less investment.
Towncart, having high quality products, with minimum cost and high quality setup, this town cart supermarket is available. This Towncart, having stores here and there in Andhra Pradesh and Telangana, will develop as a trending supermarket business with best quality products. Currently this company offers towncart supermarket franchises in all areas of two Telugu states.
In Towncart you have grocery items, dairy items, household items etc. In them you have a margin of 12% to 25% on grocery items and 50% to 80% on household items. A Towncart store is set up for you with an investment of just 8,00,000 Lakhs..
So those who want to start a supermarket business can use this towncart franchise opportunity.
As for the details of this towncart store setup,
Also this supermarket is 400 sq. ft. to 4000 Sq. In commercial space up to feet, it can be setup according to your budget. The investment depends on the size of the commercial space. You can set up a supermarket of 400sq.fts, 500sq.fts, 1000sq.fts depending on the commercial space available in your area. For example, if you want to start this towncart supermarket in 400sq.fts commercial space, the store setup cost will be Rs.8,00,000/-. This amount has to be paid to the towncart company. This amount includes towncart company's franchise fee, store setup cost, stock cost etc.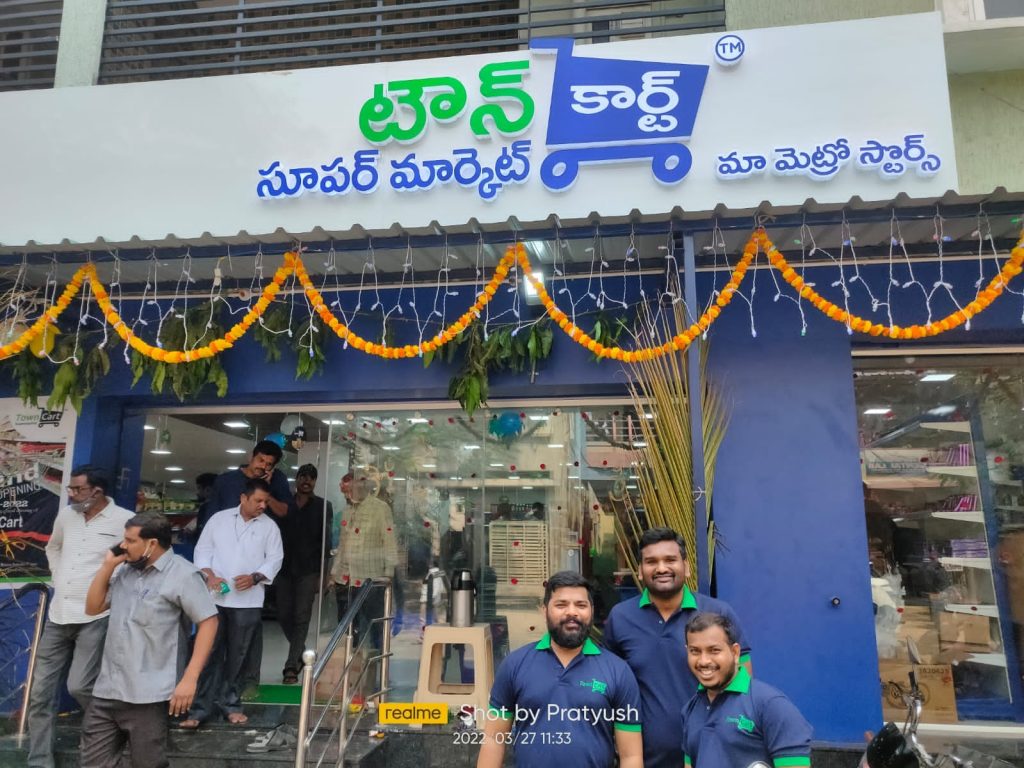 Towncart, each and every equipment related to your supermarket i.e. billing systems, barcode printer, scanners, weighing machines, trolleys, moving baskets etc. is provided by the company.
If you take this franchise, you don't need to struggle in the opening of the store. Everything is taken care of by the company.. i.e. store setup, products, promotion, branding, and staff training are taken care of by the company.
When it comes to income in Towncart franchise supermarket business, you can sell up to 30,000 daily in towncart supermarket. That means the sale will be up to 9,00,000 monthly. You will have 15% margin in them. If you deduct expenses i.e. salaries, rent, electricity bill, the company says that you will have a profit of 60,000 to 70,000 out of 1,35,000 monthly.
Towncart gives you supermarket like no other with 6000 products, stock managemet system, product replacement and high end resolution billing software. The company claims that Towncart will give you a 100% return on your investment in 16 months.
Even those who have no experience and knowledge in Super market business can take this towncart franchise. The company will help you to do this business. The company will provide full training to you and the staff in the store.
So to get this towncart franchise or if you have any queries about this super market business contact the company. Contact the company through their address and phone numbers shown below.
M/S Towncart
Ph Nos: 96428 06806,99591 60364.
Email: towncart.in@gmail.com
Website: https://www.towncart.in/
That's it readers!! Details about Towncart supermarket franchise business opportunity. Let us know your opinion on this article in the comments.