Balloons unlimited franchise business opportunity in india
In this article, let us now learn about the different outlet offered by the fastest growing, leading company in our country, the latest trending business opportunity that starts with investment and has the potential to generate huge revenue continuously!
Let's go into more details! According to the traditions of our country, there are always a lot of good things happening. As well as festivals. Yet in our country, there are people of different religions. Each religion has its own set of traditions, festivals, and ceremonies. Various decorations are made for the festivals, events, functions at home, shops, offices, stages, function halls, and other places. Balloon decoration is in high demand in the market if it has a grand look on a low budget.

Balloon decoration is definitely given importance for small children's birthday functions and business openings. So balloons unlimited is a leading fast growing company with successful franchises all over India, running successfully in such a demanding field.
The concept behind these balloons is unlimited, making creative balloon decorations for all kinds of events, setting up balloons, decoration accessories, tools, and other creative and unique items in the franchise store at the best prices.
In addition to balloons made in India, the company also imports the latest types of balloons & accessories from overseas such as the US, Thailand and China. Also balloons unlimited store provides customers with quality items at wholesale prices such as foil balloons, helium cylinders, regulators, blowers, party supplies which are not available in many in the market. Also organizes events that take place at the customer's home. It has its own team from balloons unlimited store.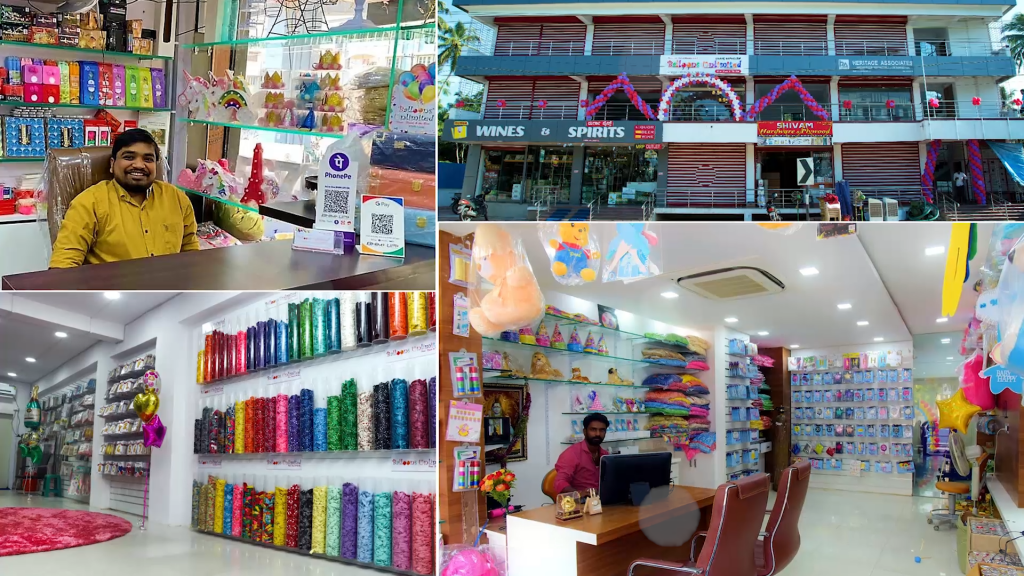 The balloons unlimited company has also set up franchisees in Andhra Pradesh and Telangana. There are over 30 balloons unlimited franchises in Hyderabad alone. Customers are gaining popularity everywhere these franchises are set up. The company currently offers balloons unlimited franchises in areas where there are already franchisees in both the states of Andhra Pradesh and Telangana, as well as in other vacant areas.
Entrepreneurs and the unemployed who are interested in this franchise opportunity, an innovative business concept, can take advantage of this opportunity and create self-employment. As well as the opportunity to earn a good income.
For these balloons unlimited franchise setup, you will need a shop or commercial space in a congested commercial area with a minimum of 200-250sq.fts.
To start these balloons unlimited franchise, you will need an investment of Rs 9 to 10 lakhs. In this amount Rs. 2,00,000 / – will be charged by the company as franchise fee. It will also stock Rs 3 to 3.5 lakh worth of imported latex balloons, foil balloons, helium cylinders, regulators, blowers, party supplies and other accessories in the store. The remaining approximately Rs 3.5 lakh will be spent for the store setup. That is, they are used for interior decoration work, furniture, name boards, computer, bill printer etc. For balloons unlimited interior theme, the company guides the team.
And if you've got a franchise, you'll need a team of two managers and three boys in the starting. If you recruit them, the company will practically train them in the events they organize.
Also gives your franchise the desired online promotion support. The company will always give you all the advice and guidance you need to do business.
If you have any doubts on the details of these Balloons unlimited franchise details, please contact the company. Those who are interested in this business, the company should discuss all the issues with them, take a look at everything and make a decision.
Contact them through their phone numbers at Balloons unlimited company as shown below. Contact via whatsapp if phone number call waiting or busy.
That's it, readers! Details about Balloons unlimited franchise business.