Chai Club franchise business opportunity in india
Now let's know about the famous company that is setting up outlets in our country with perfect planning, best concept, with low investment and huge profits, and about the franchise business opportunity offered by that company!
Going into details! Tea business will now break new ground. There is a huge craze for tea cafes in our country now. With this, tea outlets with different tea flavors, best ambience and hygiene are well received by tea lovers. The famous tea chain company "CHAI CLUB" was formed in this category.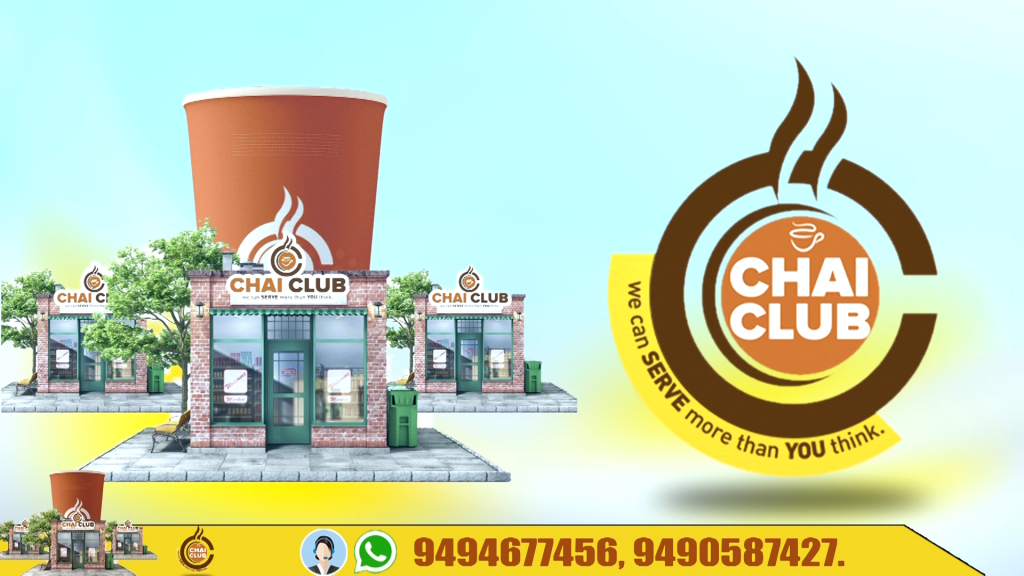 This CHAI CLUB was established in January 2021 and within 18 months, 350 CHAI CLUB outlets were established in 5 states like Karnataka, Andhra Pradesh, TELANGANA, TAMILNADU, PONDICHERRY. There are also cases where 25 outlets are set up in a single day. Also, there are many cases of setting up 3 outlets, 5 outlets in a single day. The company aims to set up 5000 outlets by 2025. This is the rise of the Chai Club.
Chai Club is one of the most successful tea franchises in recent times.
This CHAI CLUB outlet has menu recipes like 14 types of teas, 4 types of coffees, 3 types of lassi, 3 types of flavored milk, 15 types of milk shakes, 7 types of coolers.
So, present this CHAI CLUB company offers CHAI CLUB franchisees in all states, all district centers, towns, rural areas and all other areas of south India. Those who are interested can use these franchise opportunities and earn good income.
Otherwise, these CHAI CLUB companies provide all the necessary facilities to set up a tea outlet. Let's see that now.
Before your shop is ready, the carpentry works like kitchen partition will be done by Chai Club itself, which includes kitchen partition, cash counter, gas stove platform, milk shake platform, product storage shelf and racks.
Branding items are also given. That means Chai Club Lighting Board, Lalli Pop Board, Photo Frames, Branding Posters, Menu Frames are given.
When it comes to kitchen equipment, they provide all the necessary equipment to process the menu. Deep freezer, refrigerator, snacks display cabin, flasks, fruit mixer, gas stove, tea making utensils, plastic and metal items are also provided.
Raw materials are also given. That means the recipes in the menu are 14 types of teas, 4 types of coffees, 3 types of lassi, 3 types of flavored milk, 15 types of milk shakes and 7 types of coolers.
50 thousand to 60 thousand business is done on this raw material in starting. Along with these, furniture consisting of 2 tables, 8 chairs and 4 stools will also be provided.
3,50,000/- rupees have to be paid to the company to set up this chai club franchise. After you take a chai club franchise, you don't have to pay any royalty to the company. The franchise agreement is for a period of 5 years. When it comes to profit margin, there is a profit margin of 40 to 50% on the sales made in the outlet.
If it comes to free service, the company will provide training for three days for making menu recipes, either for you or your chef. They also give training on how to run a business.
If all these are put together, after opening a shop, the Chai Club team will also work to increase the sales of that shop. Chai Club is also providing services like increasing outlet sales through monthly sales assessment and sales development. Outlet Location Awareness, Brand Awareness, Marketing, Advertising.
When it comes to supply chain, Chai Club has the largest supply chain. They have stock points in many areas. There are stock points and offices in Hyderabad, Warangal, Medak, Mahbubnagar, Nizamabad, Karimnagar, Kadapa, Vijayawada. Other states also have stock points and offices in Bengaluru for Karnataka, Chennai and Pondicherry for Tamil Nadu.
Chai Club teams such as Sales Development Team, Marketing Team, Digital Marketing Team, Quality Control Team, Business Development Representative etc. always visit the Chai Club outlets and take steps to increase the outlet sales.
So, if you need any more details on this CHAI CLUB franchise or if you have any queries, contact the company. Those who are interested in this tea franchise, discuss everything with the company, examine everything and take a decision.
Contact the CHAI CLUB company through their phone numbers given below. Contact via whatsapp if the phone number is call waiting or busy.
That's it readers! Details about CHAI CLUB franchise business. Share your opinion on this article in the comments.