A Tamilnadu businessman earning lakhs from donkey milk
A young man reads Arakora .. but he embarked on an innovative business that no one else could do. Today, that young man is earning a huge income that no one could have imagined. Who is that young man? In which business is he earning lakhs? In this article we will learn about such things.
Let's go into more details! Even if someone is still illiterate and does not listen to what is being said .. it is prudent to comment that they will soon come to work only to raise donkeys in the future. U. Babu, a businessman from Tamil Nadu, is inspired by the word. Now let us know about Mr Babu ..
In fact donkey milk has many medicinal properties. It is known that this has created a demand for donkey milk across the country. With this, Babu started raising animals like cow, buffalo and goat. Now he is also raising donkeys. He sold a liter of donkey milk for seven thousand rupees, earned lakhs and became a prominent businessman. He quit his studies and is now employing many people.
Babu set up the first donkey farm near Tirunelveli in Tamil Nadu. The milk of the animals is being supplied to a cosmetic products company in Bangalore. If you do not study .. In the future, the word 'enough to raise donkeys is enough to launch the path to success. U. of Vannarpet. Babu .. said good bye in the middle of the study. Founded the first donkey farm in Tamil Nadu. The young businessman is selling donkey milk for Rs 7,000 per liter to a company that makes a variety of cosmetic products.
Babu passed 11th class. Then Babu decided to quit his studies. Entered the distribution of pharma products. The company that makes 28 unisex cosmetic products is looking for someone who can supply 1,000 liters of donkey milk each month. The matter came to Babu's attention. He also found out that there were not even a total of 2,000 donkeys in Tamil Nadu. He also found that a single donkey could produce only 350 ml of milk per day. With this he decided to start his own 'donkey farm'. Discussed with family members to put into practice immediately.
He told his family members of his idea to start a donkey farm near Tirunelveli. However, not everyone, including his wife, supported Babu's idea. However when I tried to explain to them the demand for donkey milk .. no one including the wife believed it.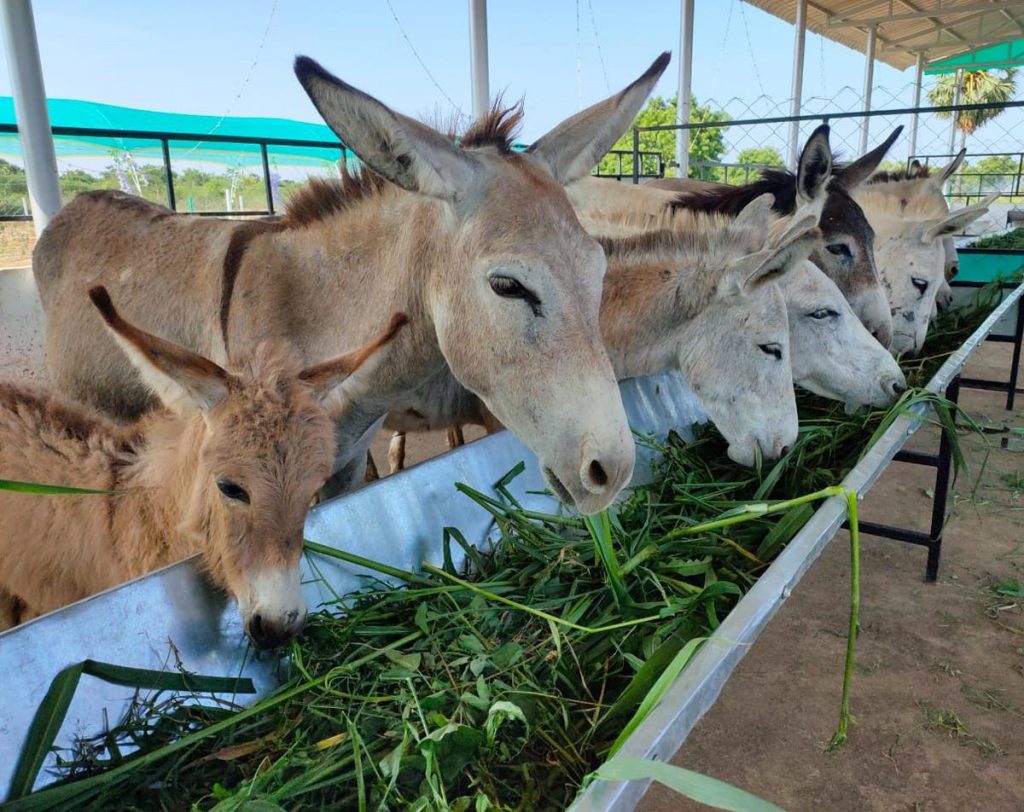 Babu, however, continued his efforts. He spotted some people from Vriddhachalam district turning up to sell 10 ml of donkey milk for ₹ 50. In addition to the anti-aging elements in donkey milk, rural people believe that it can boost immunity in toddlers. With this, Babu leased 17 acres of land from his friend. He set up the 'Donkey Palace' and started raising a total of 100 donkeys. Some of the donkeys were brought from Poovanur near Padalam for care.
Now the donkey farm includes Halari donkeys from Gujarat, a native breed from Tamil Nadu as well as Katiyawadi from Maharashtra. "A donkey of the domestic breed costs around Rs 40,000. But the price of a Halaris donkey that gives 1 liter of milk per day is రూ 1 lakh, "he said. He also cultivates his own fodder for donkeys. Many varieties of sugarcane and green grass are cultivated for animal feed.
Many cares are taken in the matter of donkey breeding .. Poovanoor family. They are doing many things like nutrition, bathing .. milking. Donkeys are more likely to be cared for in the event of a cold. Donkeys suffering from colds are kept separate from the herd and kept separately.
G. Santosh, a member of the Babu family, is in his final year of Electrical and Electronics Engineering at a college in Kovilpalayam near Coimbatore. Preserving donkeys though. He said that he will not do a job in the future .. Babu is walking in the path .. He will look after the donkey milk marketing department.
Donkey milk has many medicinal properties. These are cooled and used to make cosmetics, including bath soaps, lotions and creams for skin and hair care. Soap made from donkey milk can be a little expensive.
We are now working to enter the European market, "said Mr Babu, an Indian billionaire who is in talks to market these cosmetic products. Babu is now one of the partners of a Bangalore-based cosmetics company. Education has nothing to do with business .. Laws proves that success in business can be achieved if the principle of demand and supply is understood by the thinking nerves of consumers in the market.
Have you seen the readers! Unlike everyone else, Mr Babu Inspiring Success Story is a new way of thinking and putting into practice success.
So if you like this article please comment in the comment section that it is good.